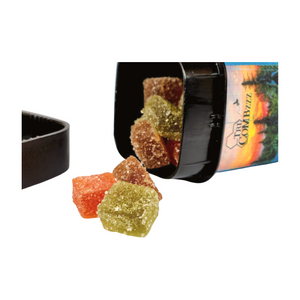 TriCombzZz
Sleep Gummies (15ct or 30ct)
Sale price Price $29.95 Regular price Unit price / per
Sleep Gummies 15ct or 30ct containers and save!! Select Size to change container counts. 
Introducing our Full Spectrum Sleepy Time Gummies, the perfect solution for those who struggle with sleeplessness or trouble falling asleep. Made with a carefully crafted blend of natural ingredients, including Full Spectrum CBD, CBG,  melatonin, and GABA, these gummies are designed to promote a restful and rejuvenating night's sleep.
Our family-owned and operated farm and company based in Utah oversee every step of the process from seed to sale to ensure the highest quality product. We take pride in using only the finest natural ingredients and have carefully crafted three delicious flavors for you to enjoy: grape, pomegranate, and mango.
Our Full Spectrum Sleepy Time Gummies are carefully formulated to include a small amount of THC, the psychoactive component of the hemp plant, to provide a sense of relaxation and calmness. Along with melatonin, a natural hormone that regulates sleep cycles, and GABA, a neurotransmitter that promotes relaxation and calmness, these gummies work together with Full Spectrum CBD & CBG to help you get a restful night's sleep.
Our gummies are made with full spectrum hemp extract, which includes a wide range of beneficial cannabinoids and terpenes found in the hemp plant, ensuring that you receive the full benefits of the entourage effect.
We take pride in the quality of our products and have our Full Spectrum Sleepy Time Gummies tested for purity and potency by third-party laboratories, so you can trust that you are getting a safe and effective product.
Try our Full Spectrum Sleepy Time Gummies today and experience the natural benefits of our high-quality Full Spectrum CBD, THC, melatonin, and GABA. Say goodbye to restless nights and hello to sweet dreams.
Opening the container: Our child resistant container is also senior friendly, however getting used to opening them can be confusing. Start by lightly squeezing the container placing your thumb on the area labeled "press" and your index figure in the same spot on the opposite side. With your other hand grab the opposing sides and hinge up. (Video coming soon)